TV Review: The Upside Down Invades Hawkins in Stranger Things 2
Warning: Major spoilers ahead! You should probably only read this if you've already finished the season or if you love to spoil things for yourself.
There can be only one Venkman. Photo courtesy of Netflix
At the end of Stranger Things, audiences were left with a conflicting sense of closure and anxiety as some of the show's biggest questions were left unanswered. Was Eleven (Millie Bobby Brown) dead or lost in the upside down? Who was that mysterious stranger Jim Hopper (David Harbour) was talking to? And what the hell did Will (Noah Schnapp) throw up that slithered away?! Stranger Things 2, which is meant to be a sequel to Stranger Things and not a second season, gives us the answers we were waiting for while raising the stakes for the citizens of Hawkins.
While there's no denying that Stranger Things 2 is enjoyable and binge-worthy, there are some huge holes in the season that ruined the flow of things and reminded me that the show is just an homage to itself. Applying Aliens logic to the sequel, the Duffer Brothers just expanded on the existing universe without creating any moments of "I didn't see that coming!" (except maybe Bob's death, #ripbob) Quentin Tarantino would be proud of the show's plethora of nods to decades past (in this instance, all things 80s), and while the story doesn't give us anything gasp-worthy, the characters' flaws and deeply relatable moments keep us hooked.
Like, its predecessor, Stranger Things 2 weaves several different stories together throughout the season. Hopper is keeping Eleven safe in a remote shack in the woods, while Mike is convinced she is alive somewhere and is still searching for her. Nancy (Natalia Dyer) struggles with Barb's death and her relationship with Steve (Joe Keery), while Jonathon (Charlie Heaton) still clearly has feelings for her. At the center of it all, Will is experiencing crippling hallucinations that allow him to see what's happening in the upside down. These visions get worse and worse until Mike and the others figure out that Will isn't simply hallucinating, he is seeing what the monsters see.
(Max's confusion is totally warranted. Photo courtesy of Netflix)
Stranger Things 2 adds a new character to Mike and company's party: Maxine (Sadie Sink), aka Mad Max, a red-haired tomboy who initially treats the boys like they're pests rather than friends. Both Lucas (Caleb McLaughlin) and Dustin (Gaten Matarazzo) vie for Max's affection, while Mike (Finn Wolfhard) clearly resents any girl who isn't Eleven trying to join their group. One of the show's biggest strengths is the way the kids handle problems outside of the giant monsters. Of course Lucas and Dustin would be trying to get a girl to like them while the world is crashing down.
The highlight of the season comes from Steve's development.  Previously, Steve was a stereotype whose personality relied on him being fit, popular, and attractive. However, he becomes the inverse of the 80s jock and is now defined by his loyalty and protectiveness to those around him, including Nancy and Jonathon. It can be argued that Nancy betrays Steve (I certainly found myself screaming at her a few times), but Steve's maturity surrounding their breakup is not only a welcome change from his old ways, it's realistic. As much as everyone loves The Breakfast Club, teenagers don't fall into those one-dimensional characters. Steve develops an (adorably) organic friendship with Dustin, and the two comfort each other over lost love. Their relationship was the highlight of the season for me, not because it was particularly poignant or heartwarming, but because it felt like the most relatable and natural (except maybe for Joyce and Bob's relationship, #ripbob)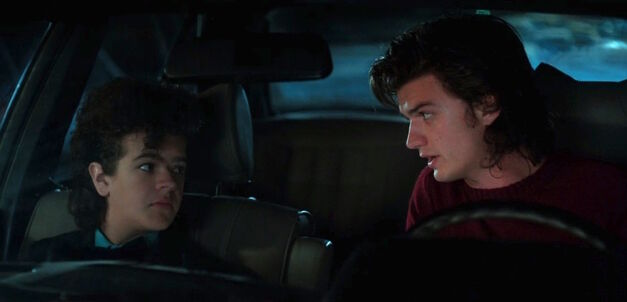 (The best hairstyles on the show. Photo courtesty of Netflix)
Unfortunately, the show fell flat on its face when it came to Eleven. Her unwarranted jealousy towards Max and Will while spying on them does in fact make her a one-dimensional John Hughes character. It seems completely out of character for Eleven, and while teenage romance is a theme in this season, this display of telekinetic teen angst feels disingenuous. Following a huge fight with Hopper, Eleven discovers her real name and her mother's identity. The revelation that Eleven's mother is alive opened up a ton of possibilities, but her nearly comatose state and cliche montage of memories did nothing except reveal the stranger from Chapter 1: Eleven's "sister" Kali, aka Eight (Linnea Berthelsen). Chapter 7 of Stranger Things 2 is undoubtedly the most convoluted and underdeveloped episode of either season of the show. My friend Emily put it best: "It's like an 80s version of Suicide Squad. I neither like nor care about any of these characters."
While Stranger Things 2 is weaker than its predecessor, it is still overall an incredibly enjoyable and binge-worthy bit of television. The show ends on a cliffhanger and asks some similar questions to Stranger Things. Is Papa alive? Why is the giant tentacle monster still roaming free in the upside down? Will Dustin keep his incredibly cool hairstyle? Needless to say, when Stranger Things 3 comes to Netflix, I'll be binging it just as quickly and excitedly as I binged this season.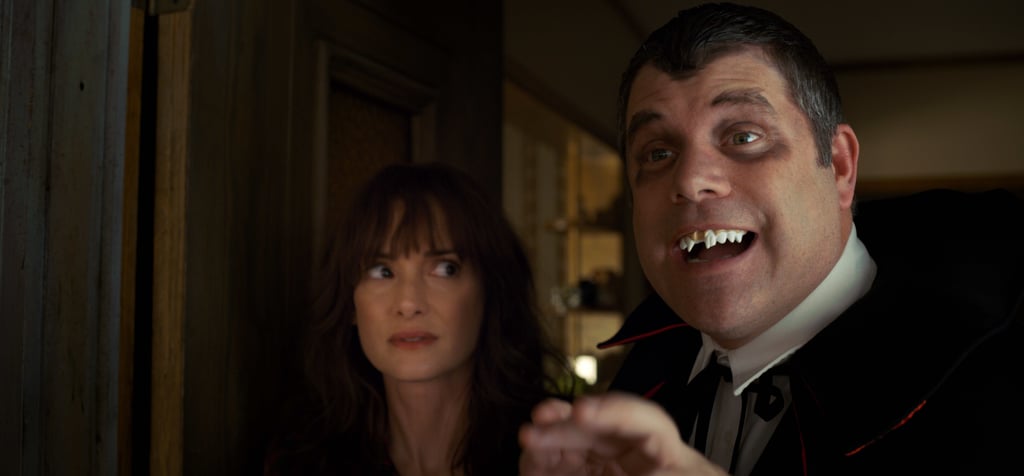 (Seriously, #ripbob. Photo courtesty of Netflix)